Testimonials
no catalogue necessary thanks
MBS is the Best, ALWAYS!! Super easy to navigate online shopping site.
Easy access to manage my orders
Hi Folks....I want to send a heartfelt "Thank You" to all of the folks that made my order happen. Although my order was small, you folks came through in a Big way. I received exactly what I needed and wanted today just as you promised. No small feat in today's wonky world. Thank you so much and please keep up the excellent work!
Easy to find item I wanted.
Easy to navigate, found exactly what I needed.
It's insane the amount of pages and clicks one has to do just to get to the cart to PAY.
Everything was easy and straightforward. Sign up was quick and Jessica made it super easy to add our company tax-exempt status. Great job with the website and customer service!
It was great! It was easy to use the filters to search for what I needed. The product pages were very clear. The technical drawings made all the difference in understanding the product. Thank you!!!
Had what I needed and lots of shipping/pick up options! Will definitely use again for all our stand-off needs!
Called Customer service and they were GREAT!!!
I don't order you products that often for my company, but your website is terrific and very easy to use. Thank you!
No need to improve the online shopping.
There is nothing to improve. I am very satisfied the way it is. Thanks to Michelle on the chat I was able to make my decision and purchase very quickly.
always great and easy to use.
It was a bit hard to figure out how to edit my card once i'm in the checkout. Great otherwise.
As usual, Always a seamless experience!
Very nice People and easy to deal with. Stan Combs Sign
Michele was VERY helpful!
Amazing selection of spacers! Was not able to find the particular size anywhere online except for here. I was looking aluminum spacers to replace some crusty zinc ones on my Harley. I can polish aluminum to make it look like chrome. :D Website a little hard to filter for specific spacer size though, but I ended up finding what I needed regardless.
I had some issues with the website trying to initiate store pickup in las vegas. default was Tampa. With a phone call, Michelle found the problem, I had past quotes in my profile which for some reason indicated tampa pickup. Once I deleted those quotes the default changed to Las Vegas based on the shipping address. All is well.
My first time and it was very easy. Nothing to change.
Jessica in the chat help found the hardware I needed to finish a sign job! Very Helpful.
Nothing, it was easy to navigate and find what I needed.
Buy in MBS Stand Off is easy and fast.
Great company thank you for everything!
THE system AUTOMATICALLY saves my Credit Card. I should have the option to uncheck this at the checkout screen but it was "gray'ed out"
Always easy to order and great quality products
No improvements!! I LOVE that you show the delivery dates so I know which shipping carrier and service level to choose. Thank you!!!
I actually called and got some information over the phone, and the customer service was excellent! Therefore, it made my online shopping a breeze!
EASY TO USE WEBSITE....PRODUCT IS ALWAYS PACKAGED WELL AND ARRIVES PROMPTLY
Super easy checkout process and very user friendly website interface!
Nothing. Always easy to find what I'm looking for.
Your website makes order placing so streamlined, we love it!
amazing prices and well constructed/easy to navigate website.
Add the ability to ship blind / no label & no paperwork other than packing list, directly to our customers.
The representative who answered my initial phone call was EXCELLENT! Thank you!
Your website is great! It would be helpful if at some point all the photos of the plastic counter shields that seem to have replaced half of the stock photos could be removed and the proper photo for each item put back up.
Remember, there's always room for improvement. Customer service over the phone was second to none, thank you. 05/20/2022
Very easy to order... sales person Jessica was terrific! Thank You!
Easy website layout. Found everything I needed, fast and efficiently. Customer Service is Great as well!
I added the catalog to my order, but it didn't show up in the cart. Hopefully it's sent. Hopefully it didn't get added multiple times...
Would have loved free shipping!
Tom was great, helped us out at the show
You guys and your online system are great! I wish my other vendors were as good.
Your good and thanks again!
Michelle has been fantastic help, you have a great asset with her.
Easy peazy! Nice to order the bracket and hardware together.
was pretty easy to navigate the website.
Repeat orders are a breeze!
I dont see how you can. Very easy to order. Cut and dry - no issues.
Get rid of the MBS sign supply pop up window that shows up every time I come to your website as well as the pop up window that asks if i want to add a catalog and other items.
No improvements needed. The experience was great!
nothing, it was easy and good, thanks PC
Simple interface, found the items and replacement parts easily
We have catalogues, no need to send another, thanks
The online shopping experience is great. No improvements necessary!
No suggestions at this time.
Using the online store was easy to use and gave me the spec info I needed.
Well done! Thank you for your prompt service!
Not a thing...very easy shopping experience
Less pop ups every time I put something in my cart
Keep up the good work! Appreciate all your help!
Nothing stands out. Always great service.
Shopping was quick and easy. Thank you again for your support of our Company.
Hi Jessica,

Thanks so much for your help earlier. I just called in to finish up my order (after having double checked on the type of screw needed)

I just want to let you know how much of a pleasure it is to work with everyone there, but you especially. You are always so friendly, helpful, and knowledgeable. There are always people who are ready to provide negative feedback / reviews, but I like to give compliments, and you are definitely one of those people who deserve it!

Thanks again, and have a great day!!
Always satisfied, never had any issues with an immediate delivery or shopping online.
Great website to navigate products. Easy checkout with many shipping options.
I was very impressed with the website. I was going to order on Amazon because I'm so familiar with them, but the selection on your site is amazing and with the free shipping on the same day as the order there is really nothing to be improved!
I absolutely love this site!!
Everything has been fantastic thank you
Easy to order, great products. 100% satisfied.
very easy to navigate your site. thank you.
My online shopping experience was aided by Eric. Not sure what his last name is, but he was great. Walked me through exactly what I needed to get the parts required to mount a double standoff. Wouldn't have made this purchase without Eric's help.
This site is easy to use and using the Chat (Jessica) was great - she helped very quickly to answer my questions and take care of this issue for me! AWESOME!!! Thank you
Had a small problem placing the first order, but when I discovered there was more information needed to fill out for my account, it wasn't an issue. Nice quantity of hard to find hardware. Very Nice!
This site is so easy to navigate. I use the products on nearly every one of my installations. Customers service is top notch.
I enjoy doing business with y'all. Thank you!
Great site. Great selection!
Website is easy to use and when I have needed help in the past - your customer service staff is excellent. Happy New Year. Keep doing what you are doing!
i don't think you can, used Chat to find out hardware for my standoffs and that was very speedy. and i knew what i wanted in standoffs so perfect!
It was simply FANTASTIC! Shannon was extremely helpful and pleasant! THANK YOU
The suggestions were great. Helps to not forget anything.
The only way you're going to improve is if you ship it before I order it. The site is easy to navigate, each item has all the pertinent information easily accessible, and the checkout process is completely painless. Thank you for making ordering such a pleasure.
Well design and easy to navigate website
Everyone was very helpful in helping me find the correct items to purchase with my stand-offs
Awesome customer service! Easy to use website!
customer service gal was pleasant also
Its great! the online chat was awesome!
Nothing, everything is laid out for easy searching and all clearly marked.
great and very fast service
easy to find items need it
It was wonderful! Site is super user friendly and customer service was superior! fast and super helpful! My Rep's name was Eric
So far so good. We'll see for sure when the products arrive. Thanks.
So fast, so easy. Great site. thank you
Great online ordering website...easy to use.
Always the BEST experience - online OR on the phone. Thank you!
you are doing a very good job, do not change a thing.
I appreciate the ordering and quoting tools your site has available
Jessica was really helpful - thanks!
You guys are great! I really do love working with your company, you have fantastic customer service and if you are out of something, you are more than accommodating to help come up with an alternative item!
I was so pleased that you had older orders on file! Thanks for being so helpful!
very easy to order awesome
Jessica helped me with my order and was prompt and fantastic to work with!
Always easy on line ordering and speedy shipping
Quick and helpful chat! Thank you
LOVE THIS SITE! I am on it daily! I love the added extras that pop up with the standoffs - letting me know what else I need to go with it!
Read my mind and order it for me.
Website is easy to navigate and has concise groupings. Found everything I was looking for. Thanks!
Your web site is awesome!!
I don't think it can get much easier!
Site is very user friendly and easy to use
Eric has been extremely helpful! Thank you for everything!
Easy to navigate for a sign guy Thanks!
Keep doing what you're doing!
Very smooth use of the website, absolutely no issues!
Very good experience although the many options displayed w/sneeze guard parts was a bit confusing since not all pix match descriptions. Har to see/tell difference between various material types. Otherwise, great experience overall - Well done :)
Would have been a great experience thanks to you guys. You filled my order precisely. The problem was me not placing the proper order. Which is the only reason that my experience is not the greatest. Thanks guys
Spoke to Jessica on the phone and she was beyond amazing!
Everything was wonderful. Eric was extremely helpful!
Getting better and better!
Maybe I missed it, but I don't see a "Continue Shopping" button...?
Nice filter on the left, pretty helpful
Love being able to re-order same item without looking it up.
Consider offering some of these sign mounts I am ordering without screw holes.
Wow amazing how easy it was to shop. Love the video instructions!! Thank you!!
Very easy to order online, fast shipping, great prices!!
Nice site, easy navigating.
Your phone personal were great and professional.
It was easy, online - and your phone crew - do a great job.
Please add an option for UPS Ground shipping, I'm willing to pay for this option. I appreciate the free Fedex Ground shipping but it takes 2 days to get to Daytona Beach area from Tampa.
What a joy to speak with such a capable sales person. Dionne was very helpful and demonstrated a knowledge of the product. When you are a grandmother doing business in today's world it is so helpful to have information at their fingertips to help. He synced the information to my cart and made the process so easy. Kudos to Dionne!
Great experience, will order again!
This is our third order. We have been happy with everything we've bought. And the customer service and prices are great.
Not sure you can. It is a clear, clean process.
Easy. Getting help earlier in the day from Dion was very helpful also.
Love your website. Very easy to navigate and easy on the eyes too.
Easy ordering and fast shipping
It was really efficient and great illustrations.
Always a pleasure to do business with.
That was easy. Thank you.
Great experience. Love your website.
Easy to navigate and I like the Video Animations....very helpful
I have used stand off style and related hardware for over 15 years in the signage industry. Gyford used to be the gold standard, but MBS has now become our go to source. The quality and finish on the parts is now comparable but MBS pricing, turnaround, and service is better. MBS is now our go to source, there are cheaper options out there, but you will be disappointed in quality and finish, these guys can't be beat currently.
customer service was very courteous and helpful.
Easy to navigate and good pricing!
LOVE your website! Easy to get around! If I have questions, I call your customer service and they are very helpful!
Fantastically efficient website and search function ... GOOD JOB !!
That was so easy.. will use MBS again for sure....
I have used your chat feature a couple of times for this order. The staff was very helpful and thorough. When it was time to place the order, it was a breeze due to their previous assistance!
Excellent customer service!
You guys were great and your customer service Michelle was awesome in helping ,e pick out what I needed. I am so glad I found you guys!!
This has been the quickest I have ever made a transaction. Thanks
MBS has been a great source for some of our hardware needs, and offers wonderful customer service.
Thank you sir, I appreciate it!
Just wanted to take a moment and recognize one of your folks in sales……..JUSTIN What a pleasure to deal with! Never really liked the chat feature online, tried it out today and Justin made the process so easy I'll use it again.
Thanks
Thanks. I just received my second order and the products are just as promised and look great. I ve never received faster delivery from any products ordered on line.
Thanks again!
Received with dazzling speed! Great price and free shipping to boot.
Absolutely terrific!
What great service. I will purchase from your company again whenever possible.
Hello, A quick THANK YOU and HIGH FIVE to Justin, He jump through hoops to take care of my rush order yesterday.
GREATLY appreciated.
Just a quick email thanking you for the Outstanding service we receive from MBS. We deal with many companies for materials to fabricate our product and yours is above and beyond.
Thank you!! Scott
I would like to commend the customer service I received from one of your representatives name Justin.
He provided professional knowledge and technical support while assisting me in the proper selection of items needed to complete a project for which I have limited experience. I have not received the items at this time, however, I feel reasonably assured that the project will turn out well. Justin's high standards, personnel commitment, and patience as an online representative gives me comfort to know I reached to the right business.
Thanks you for your support, Duane J.
Jennifer Brown
06/07/2019
Thank You to MBS,
I hope this gets to the right people. I am sorry I don t remember each person who answered the phone to help me find and finally order for this project so I will name Dave and Melissa from today and refer to two women who I spoke within the past few weeks. I appreciate the friendly greeting, the amount of information they easily find and the considerate, friendly assistance. Since I found MBS, I may not have been a big customer, but I have recommended your company to many. I really appreciate having such a great resource and enjoy calling your staff.
Again, Thank you to the sales staff, you are stellar.
I spoke with Dionne on livechat to receive two quotes I needed for a client. He was extremely helpful and informative in assisting me to ensure I had the right products. I was unsure about a few details, but he put my mind at ease with his knowledge of your company s offers and resolved each of my questions. I just wanted to reach out and inform you that I appreciate working with someone with such a positive work ethic.
Thank you for your time. Have a great day.
I wanted to share that my experience with you yesterday was exemplary and restored my faith in US corporate customer service. You were positive, articulate, very knowledgeable and extremely helpful. Yesterday was a challenging day for me but that interaction was a little ray of sunshine in my day. I actually got off the phone with you with a smile on my face because you helped me solve a problem. Thank you. It is a good motivator for me to agitate for much better process and training for our own customer service team.
I'm confident the solution you helped me develop for our little sign project will work perfectly and, when it does, I'll place our order next week for the full quantity of standoffs to complete this job.
Please pass this along up the tree to whomever you want to. You deserve props from your superiors. Thank you, again. Have a great day.
I wanted to let you know, first of all, that we think you have a great business. We have had almost no issues with your products or your people in the time that we have been purchasing from you. We did, briefly, have some shipping issues, but that was resolved quickly…. Anyway… that is not why I am shooting you this email.
I am just finishing a large job, at least for us, that required come custom standoffs. Dionne worked with me throughout the design and ordering process. When the customer changed the design a bit and we needed additional custom standoffs, she was extremely helpful in getting the order in to your factory and back out to me in the quickest time possible. In short, she made me look really good with my customer.
This is the first time that I worked with Dionne on an extensive basis. She was courteous, polite, helpful and professional throughout and I wanted to make sure you know what a great representative she is for you company.
I just thought you would want to know. Thanks
Hello my dear friend,
I wanted to let you know we finally received the pieces you sent us and they turned out fantastic .. just a big thank you and especially for the 'exceptional' service you provided throughout the order. Wishing you the best and until next time ..
Kip
Chrystal,
Thank you for exceptional customer service. I see very little of this level of quality work from vendors.
Dennis C
Demar, I wanted to take a moment to send a very sincere thank you for the professional way you handled this difficult and unusual request. I had spent an hour searching the internet for this application and you were the ONLY firm that answered my questions. Your personal knowledge of the product and skill in describing how to install it left me feeling that I was dealing with a professional person with skill and experience.
Thanks again and please use me for a reference!, I look forward to getting the units installed and sending you photos!
Dan
Crystal,
Thank you so much for all your help you are a great asset to your company and there way of doing business.
I will most definately share your company with my friends in the Awards and All Recognition business.
Ken
Katrina,
Here is a photo of the Zero-Fare display. Thanks for all the help with the standoffs!
Thanks, Wendy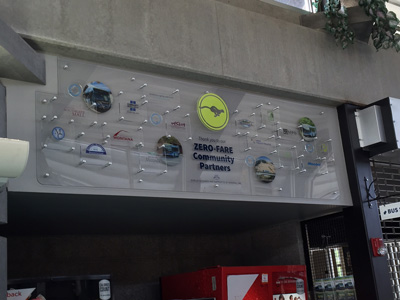 Katrina,
Package Arrived. Thanks and good job.
After searching on line for a good while I landed on your web site and ordered. Glad I did.
The experience turned out successful. Keep it up.
Stephen L
Katrina,
I am duly impressed with not only Mbs but your personal follow-through as well.
You folks did what you said you would do in the timeframe you said you would do it within.
Thank you very much for outstanding customer service... It is appreciated.
Roger H.
Hello Demar
We just received the order.
I just want to take a few minutes to thank you for your excellent customer services.
Thank you!
Rosa D.
Marie
Just received the standoffs you shipped two days ago from across the country.
Great service! Great Product! Amazing Price!!
Kim F.
Hello Jessica,
Thank you for all your assistance. You are probably the most helpful representative I have had the pleasure in dealing with in years.
Customer service seems to be secondary these days with a lot of suppliers.
Thank You,
Mark
Thank you Marie for helping me complete my order.
It has been a pleasure working with you.
Hi Jessica,
My sincere gratitude to you for expediting our order with care and efficiency on Friday, January 15th for 30 hooks for Peabody Art Association Members Group Show. They arrived the next day January 16th at 11:00 AM in time to hang all 80 pieces for the exhibit.
So happy my husband found you! You did a great job!
You are awesome! Warm Regards
Demar,
You are awesome!
I have ordered a lot in my life and you have made it very EASY.
Hey Jessica,
Now that is what I call quality control!!!
I showed to our warehouse manager and he said he is sorry. He saw the boxes and didn't realize they had the missing screws.
Thanks for showing this to me, I wish we had that system here!!!
Thank you very much for your prompt attention. I wish all of my vendors were as quick as you!
Marie,
Perfect! Thank you so much. I can tell you love your job. Your customer service skills are fabulous!!!
You are so helpful! I really appreciate you!
Have a Magical Day,
Carrie Mengel
Vanessa Chorvas
08/23/2015
Yes! Confirmation looked correct!!
Have a wonderful weekend Travis, my hero!
I just wanted to say how impressed I was with your website and transaction process. My career is in online advertising and web development and compared to your competitors (G… resellers and N...?) you are killing it.Super smart upsell/recommendation to add necessary hardware in screws and anchors. I found that confusing on other sites to know what was and wasn t included in the cost in terms of anchoring items.
1, 2, 3 with you all and done.
I looked at you for Price to start but your site experience sealed the deal. Appreciate it.
Travis,
Super!! Thanks for making things work, as always!
These standoffs worked out great!
My customer is wanting to add another sign, they loved the first one so much!
Thanks Travis!
Hey Marie,
I just received my order from your company and it's is exactly what I was looking for. We were getting 1-1/4"X1" aluminum from Displays to go but they seem to have run out for the past year and it put us in a bind with regards to staying consistent throughout our school when we install new signage.
I love the flat side, it's perfect for what we need. Your team is very fast and we appreciate that.This was our first time ordering from your company but I can see you will be our new supplier for stand-offs for all our future orders.
Thanks for everything~ Jim
Good Afternoon,
I wanted to let you know that it has been a pleasure working with Travis Seaman. I have been working with Travis for over a year now. Travis is very polite, quick to answer questions and placing orders with him is a very easy. I wish there were more people like him in the world. Thank you for having such a wonderful employee
Thank you,
Brittany C
Travis,
Received the package, and can t thank you enough!
You saved the day :-)
Thank you again for getting me out of a jam!
Tammy C
Travis,
Excellent service and turn-time as usual.
Thanks,
Dan
Hello!
Just wanted to let you all know how AWESOME these stand-offs have been for my small business manufacturing audiophile quality speaker enclosures. They made my grills look professional installed and detached.
I thought you would like these since this is a really off the wall use of your product. I will be placing more orders in the future.
Mbs Standoffs has some of the highest quality products in the industry. We use MBS every time we need standoffs or any mounting hardware. Along with the excellent products, MBS has always provided outstanding customer service in a timely and professional manner. I always have my order within a day or two and that is crucial when working on time-sensitive projects. Travis has been nothing but helpful with every order I place and any questions I have. The friendly, knowledgeable and reliable service is very much appreciated.
We will continue to do business with Travis and MBS for the foreseeable future. A wonderful vendor all around.
Just got the confirmation, I really like the new style and layout for the confirmations, much easier for me to read.
Demar,
Thanks,
MBS always seems to have it together and that is appreciated !
I have had such a positive experience working with Bridget and the team at MBS that I look for ways to sell more stand offs to my customers.
Every time I call, the sales staff is fantastic, kind, professional, and efficient. I always get the feeling that they care about me as a customer. They work really hard to make sure they recommend the right product, hardware and tools needed to get the job done right the first time, which is invaluable to my business and the reason I choose MBS.
Thanks so much!
It is always a pleasure to work with Demar and Mbs Standoffs. They have a quality product with terrific, competitive pricing.
Response time is quicker than any other vendor we deal with, and shipping time is very fast as well. Our standoff vendor will always be MBS!
YOU, are TREMENDOUS!!! Thank you so much for being so awesome!!
Have a wonderful day and I will be in touch shortly.
My best,
I did receive everything – thank you for the follow up. Our vendors are usually pretty good about responding. I don't imagine it will take but a few days to us processed.
Thanks again for the excellent customer service and Happy Friday
Sandy T
Hi Felicia,
The Shipment got sent to the old address but I caught it and fortunately know the Fedex Driver for that route and was able to contact him and arrange to meet him and pick it up.
5711 Halifax is the correct address moving forward. Thank you for the follow up. A significant part of our Business Model focuses on Customer Service. Our thought is that it can make you or break you.
I appreciate the excellent way you've handled everything for us.
Tell em to give you a raise!
Best regards,
Hi Felicia,
Got them this morning, everything was perfect, thanks for your prompt service, and excellent follow up.
I will let you know the next time we need anything.
Regards,
Larry
Thank you Felicia.
Great service!
Gary S
Thank you Felicia, the standoffs are great! We are very happy with our order.
Thank you so much for your excellent customer service.
Amy
Well hello Felicia! Everything went great, and all projects are out. Once again the installer picked up the finished product before I could get pictures. It has been crazy busy here. I am sure you will see our work soon. They are the Roxie the cow ads for Shamrock. We are shipping them all over. Also we have some things on our website we have done. prigraphics.com You have been a huge help and I appreciate you!
Scott S
Felica,
You have been absolutely outstanding.
I cannot thank you enough for your perseverance and your committment to customer service.
I will look for my refund and thank you again.
Would you like me to send you a picture of the finished project?
Lynn
I know they arrived. I have not been in my office today. Thank you for the great service.
Barry R
You have provided WONDERFUL customer service. It's sincerely appreciated.
I hope you have a GREAT day too
Stacy
Hey Felicia, I just received the standoffs. Thank you so much for your help. You are life saver.
Scott
Travis,
I just wanted to let you know. MBS is my one stop source for Stand Offs. I can just tell them what the project is and they can tell me exactly what is needed and what will work best. They always have product in stock, never a back order. My Representative, Travis, makes sure I get my quotes back within an hour. Each order is followed up with an acknowledgement and tracking. Bottom line, I never buy anywhere else!
Ron
I can honestly say that I have experienced exceptional customer service from MBS since day one. The knowledge of all your customer service reps is second to none. I have chosen to always deal with Demar because of his personality and ease to work with. Last of all MBS's extended hours are a plus.
Looking forward to keep working with you in the future.
Regards,
Remy T
To whom it may concern,
We had a great experience with our order today. Bridget was able to understand what we needed, took the time to make sure we were getting the specific parts and followed up very quickly. Wish everything in business went this smoothly.
Thank you for the great help!
Grant V
Thank You Freida for making this transaction as easy as possible for me.
I really appreciate all your help in getting this order correct. I can't thank you enough.
Have a Happy New Year!! Looking forward to doing more business with MBS.
Tati P
As a project manager, I am frequently in a position of needing to quote a specialty type job that requires some specific hardware applications for layered substrates, which I just could not figure out on my own.Freida is the absolute best at figuring out exactly my customer's vision, and is also wonderful at suggesting other configurations that would work even better than what was originally designed.Her prompt attention and details are exactly what I'm looking for each and every time I need her help. Freida has saved me time (and, in turn, money) with her knowledge of the product, and what works best for particular applications, along with being an all-around great person to work with.I really value the opportunity to have Freida available as a resource for my project needs.
Thank you Alex!
Very nice to meet you! I must say I am absolutely impressed with your customer service team and products. Travis is WONDERFUL and he, amongst others I've worked with from Mbs Standoffs have exceeded my expectations.
It is wonderful to be working with such a great team. Response time is phenomenal, the kindness and helpfulness I get from your team is exceptional… we are beyond satisfied!
Thank you for the follow up – I'll make sure to keep in mind your contact information shall I ever need it:)
Thanks again!!
Jessica, thank you for looking into this for us.
I really appreciate all your efforts. Just let me know when you get this final cost and lead time.
Thank you,
Cindy A
Ok you absolutely rock.
I did not expect a response that quick.
Send me the 6 lengths and if you need a credit card just call me or feel free to just bill us.
It would be nice if we could get on a net 30 as we are trying to order more and more from you.
David C
Thanks!
Let me say again – I really appreciate working with you and MBS!
Ron
Inventory / Purchasing Specialist
Good afternoon Jessica,
I have been ready for the Holidays 
Thank you for the follow up and great service!
Have a great Thanksgiving!
Ksenia
It is always a pleasure to work with Demar and Mbs Standoffs.
They have a quality product with terrific, competitive pricing.
Response time is quicker than any other vendor we deal with,
and shipping time is very fast as well.
Our standoff vendor will always be MBS!
Jennifer C
Good morning Christina,
Happy Monday!
I feel like we just left and came right back.
Thank you and your Team for all your hard work and making things happen on Friday!
Just AWESOME!
I look forward to working with you all.
Have a great week.
Respectfully,
Gary
Hey Christina!
I went ahead and ordered online. Thank you so much for all your help! Hope to do business with you in the future.
Bryton
This may not be much a bang to end the day!
We have been using one of your competitors for the longest time.. going forward we will definitely go with you!
Have a great weekend
Steve
You are so awesome! Thank you.
Mark
Good Morning Christina
Thank you for your excellent service.
You go above and beyond.
I truly appreciate it.
"Have a Wonderful Day"
Chin
Hey Christina,
Thanks for your help on the phone with this and I look forward to working with you.
Thanks,
David
Jessica,
Thanks for your help with my latest order (MBS18567) and the quick delivery.
Craig
Happy Halloween! Thank you so much for your help. The extras are a great idea. I am sure that our customer will appreciate them. You guys are the BEST!
Best Regards,
Kimberly
Jessica
You are a miracle worker!!!!
We will use four stand-offs per sign and I'm relying on you for size recommendation. They are for plaques – the bigger sign will hang on a public building wall and the smaller one will be a copy for the person being honored to keep in his home either on a wall or on a stand. When you have a recommendation, please send it to me and call me for the credit card info. I have the card right by the phone to give you the info whenever you are ready.
Thank you for helping me and have a GREAT, Great, GREAT weekend – you're the BEST!!!!!!
Good morning Christina,
Happy Monday! I feel like we just left and came right back. Thank you and your Team for all your hard work and making things happen on Friday!
Just AWESOME!
I look forward to working with you all. Have a great week.
Respectfully,
Gary
Hello Jessica, we received the sample pack of standoffs you sent us on Monday. They look really good and probably will be placing our first order for a couple hundred soon.
Thanks for your help,
Jim
Jessica
Wow, that was fast! You are the best!!!
Thank you!!
John
Hi Sabrina
Thanks for your quote. I will see what my customer decides to do, and if he does stand offs for sure I will be contacting you. I really appreciate the time you took with me to discuss potential issues, and know your product well enough to ask me what thickness of plaque I was going to use so you offered me what will work with the stud length. Anyway I also hope to assist my customers well with plaque info I have to them. Just know I thought you did a great job, and appreciate it!
Thank you!
Hi Jessica
Thanks for your exceptional follow up and detailed quotes. Your service is extraordinary.
This quote looks good. I ll need to determine exactly what my needs are after meeting with the gallery installing my work.
I should know this at the latest early next week. I will then place an order for the items needed. Hopefully we can combine everything into one shipment to minimized that cost.
Regards,
Thank you very much for helping with my order. The transaction was easy, you were very professional and polite to speak with. These days that goes along way!
Have a wonderful weekend! Again, thank you for the outstanding service!
Thank you very much for helping with my order. The transaction was easy, you were very professional and polite to speak with. These days that goes along way!
Have a wonderful weekend! Again, thank you for the outstanding service!
Ref:Order # MBS4730
Gary P.
Laure,
I just wanted to drop you a line and tell you that I have received my order and I must say that I am very happy and impressed with you products quality and the the way it was packaged and received. To many times we deal with suppliers and are dis-appointed when the order arrives but this was certainly not the case. Great job!!!
Thanks again,
Thanks for the follow up, Jessica.
As usual, the product was great, and the process for ordering was outstanding…
Very happy with your products and will continue to keep an eye out for new products through your website…Thanks again!!
Carlos J.
Fernando O.
10/26/2011
Perfect! Thanks Christina
Hi Christina,
thank you for getting back to me so quickly