Suspended Cable Systems For Wayfinding Signage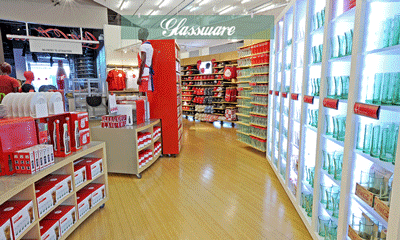 Suspended sign systems are used to mount signs hanging from the ceiling that are made from glass or acrylic. Suspended System Kits have proven themselves as valuable retail marketing solutions. Often they are used for wayfinding signage solutions to direct persons where to go in large facilities. Our sign suspension systems are constructed of high quality stainless steel and aluminum, providing both cable and rod based solutions.
Another use for these types of sigs is to identify product areas of a shop or store. Having signs suspended from the ceiling gives them a noticeable appearance that can not be ignored. People want to find what they are looking for and these signs can direct people right where to go. And with their contemporary design they do it with style. Having a way finding solution to assist visitors and staff through long corridors and common destination points is anther benefit of these systems. Through the use of a suspended sign system you can feel comfortable that you will be able to provide a clear and elegant solution for your navigation needs.
If you are looking for a stylish yet affordable suspended sign solution to wire, chain, and fishing line we have what you need!
Select an image below to narrow down your search: