The MainSail Arts Festival was having it's 41st event this past weekend and some of us from MBS, including our CEO Jean-philippe and his lovely wife Laure, attended the event.
The event has gone through many changes. It started in 1976 when the city began a huge push to bring people back downtown. That might be hard to believe for anyone that has been in our downtown area in the last 10 or so years but it didn't used to be like that. For a long time the downtown area was an afterthought for the city.
During the 1950's and 60's when all the bedroom communities were built and everyone moved away from the downtown area it became more and more desolate. As the people left so did the big merchandisers. I doubt few of you reading this are old enough to remember Web City and the green benches that used to dot the downtown area. It used to be the lifeblood of the area but with the migration of families to the suburbs it became ignored and run down.
In 1976 as our nation was celebrating it's 200 years the administration for the city recognised that something had to be done to bring people back downtown and several events were started, one of them being the "First Annual Saint Petersburg Sidewalk Arts and Colonial Crafts Festival." Being such a mouthful it was shorted to MainSail in 1977 because of our downtowns beautiful waterfront and boating community being such a big part of it and supporting the event.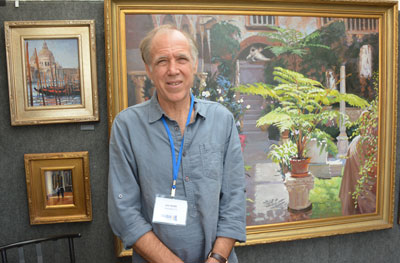 For many years the festival was one of the premiere events in St. Pete and because of it's success many other events have come to the downtown. Over the years we have accumulated some very impressive events such as the St. Anthony's Triathlon and the Indy Street Race both world class competitions. But they all owe a bit of their success to MainSail because for a long time, that was the biggest event.
Over the years the event has had it's changes. It used to take up the main park right on the waterfront. Now it is held at the Vinoy park a few blocks away. It's been a few years since I've attended but I can say it was really a great time. What impressed me the most was the artists that are using new mediums. Sure there are stunning examples of painting and sculpture but to see how people are using new mediums is interesting.
But we have to give credit where credit is due. All of the artists that work hard at their craft make any of these events possible. I stopped and chatted with a few artists and hope that you spend some time finding your favorite artist.
Then of course, buy some art hanging supplies from us to mount it! :-)