2 Very Inexpensive Ways to Make a DIY 3D Letter Wall Sign.
Quick Snap Dimensional Letter Wall Sign.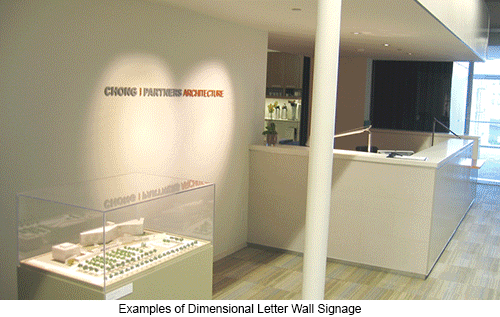 The easiest way to have an impressive dimensional wall sign without a lot of expense or work is to use our Quick Snap Letter System with stock, acrylic letters you buy off the Internet.
The most difficult part of this project is laying out the letters perfectly so your sign looks great. Our suggestion is, for a few dollars, when you buy your dimensional letters with most suppliers you can purchase a computerized pen drawing of your sign to use as a template. This solves a lot of headaches if you are not familiar with laying out letters.
Here are the items you will need to purchase for your Dimensional Letter Wall Sign:

Tools you will need:

Acrylic Dimensional Letters (Approximately $1 per inch tall - 7" Letters = $7 each)
Computerized Pen drawing of sign (Few dollars)
Quick Snap Letter Mounting System (MBS is the manufacturer so we sell in bulk quantities of 250 pcs. For quantities of 10 you may order from our distributor TAP Plastics)

Level
Painters Tape
Cordless Drill Bits & Tips
Hammer
Pencil
Step ladder if needed
Soft Cloth
Once your items arrive, unpack and lay out your template on a soft surface that will allow the paper to be punctured such as corrugated cardboard or padded carpeting.
Place the letters on the paper to make sure everything lines up properly.
Flip them over and glue Quick Snap Letter Mounts to the back of the letter and allow to cure
Flip letters back over, line up with outline and press the stud through paper.
Transfer paper to wall making sure it is perfectly straight and level.
Mark or drill in the center of the punches in the paper. Make sure all holes are made - remove paper.
Insert anchors in holes
Screw posts into anchors
Snap Letters onto Posts.
That's it! It really is that easy. It takes less than an hour not including time for the glue to cure. Add a little accent lighting and you have yourself a very inexpensive yet professional looking dimensional letter wall sign.
For more ideas please follow this link to see many more Dimensional Letter Wall Signs in the Google Search.
Glass, Standoff & Dimensional Letter Wall Sign.
Here is another way to make a really terrific looking Dimensional Letter Wall Sign. Using a piece of glass as the mounting surface and some of our Edge Grip Standoffs you can make a really awesome looking sign without any hard work.
When doing this sign you have some choices for the letters. To keep costs really low you could use self-stick vinyl letters. They sell for less than $2.00 each. They look okay and are very easy to use. When you purchase your vinyl letters you can have them already laid out on the backing ready for you to install on the glass.
For the most impressive results, we suggest acrylic, 3D Dimensional letters glued to the glass. This will really give you a professional look that will astonish your friends, family and co-workers. For a few bucks more you can even have your logo laser cut from acrylic.
Here are your steps for getting ready to build your sign:
Locate your letter supplier and design and order your letters (TAP for letters or Gemini where they can cut your logo too.)
Order your glass (48" x 14" x 3/16" Tempered Glass as an example)
Order your standoffs
Adhesive (Available at your local Michael's)
When all your parts arrive unpack and please follow these steps:
Clean the glass and letters with alcohol. After clean, do not touch gluing surface.
Measure the middle of the glass and use your "pen drawing" from your letter supplier to lay out your letters on the glass and make marks so you can line them up.
Glue the letters in place and allow to cure. Press them firmly in place and if available place weights on the letters to insure complete adherence. Make sure not to use glue in excess.
Determine where along the edge of the glass you want your standoffs. Measure this distance and transfer this to the wall. Or, hold the sign on the wall as a template and mark wall for standoffs.
Drill holes and insert anchors
Insert screw through the barrel and screw into the anchor till snug.
Insert the cap leaving enough of a gap to fit the glass and slightly tighten the set screw
Insert the glass, snug the cap and tighten the set screw.
Again, it is that easy to have a fabulous looking sign. You might even consider a multi-level sign that isn't much more work but offers stunning results. For a really easy addition to this to punch it up past '10' consider using our customizable standoffs creating another layer behind the glass that can be a contrasting color for the letters or even a metallic surface such as aluminum or a mirrored surface. Acrylic can be purchased that have metallic surfaces on them making it easy to drill holes for mounting.
This style of glass sign can also be used to hang in our suspended sign systems.